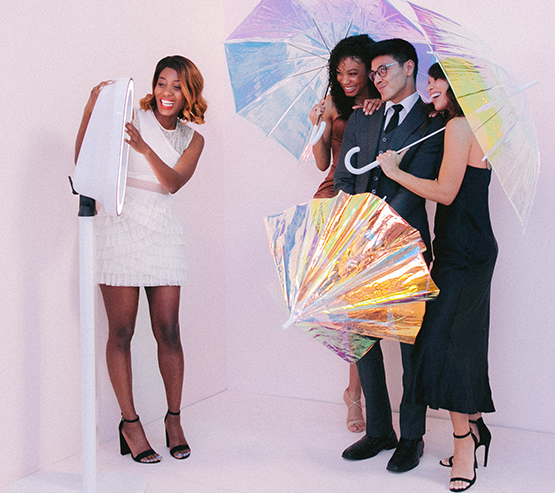 Modern Elegant Sleek Design
Clickn It photo booths are beautifully designed to enhance an event.  Stylish and sleek and can blend in at the good ole hang spots. The open-air photo booth leaves plenty of room for guests to get creative with their ideas for pictures.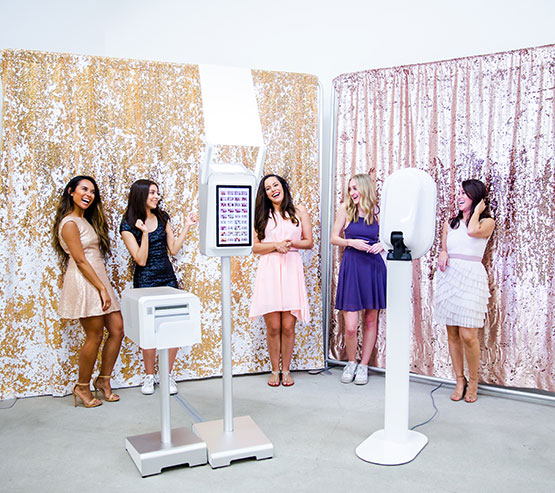 Top Notch Photo Technology
Our photo booths are equipped with a DSLR Camera, studio lighting, and a professional sublimation dye printer (makes prints under 8 seconds). Our Selfie Booth is unmatched in the industry.  It is the only booth that will stay charged throughout your event, even on full brightness.  It also keeps cool to avoid any overheating, so no need for the regular downtime those other Selfie Booths have.  No matter your package, our photo booths produce stunning picture quality.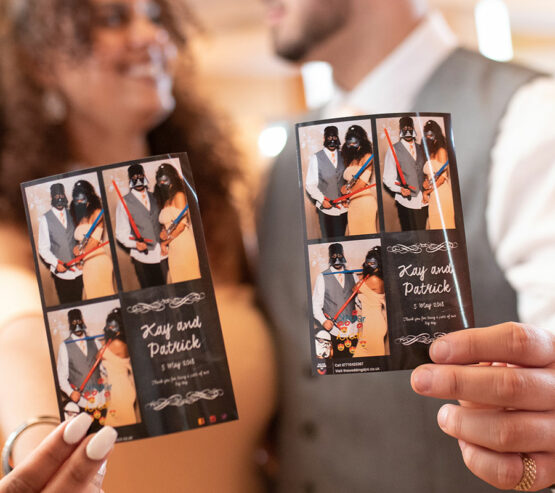 Unlimited Prints
Our Package comes complete with unlimited prints. Seriously! If 4 guests take a picture at the photo booth, all 4 guests get a copy.  It's as simple as that.  You can enjoy fully customizable photo templates to match your event.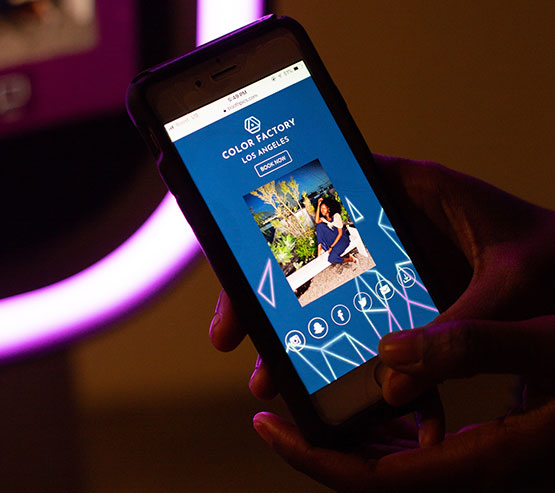 Social Media Sharing
You and your guests can share their pictures from our booths directly to their phones by emailing or texting a copy to themselves.  We can even include your event's hashtag to get things trending. Create on trend photo and video content at social media speeds.  And yes, we have those filters everyone loves!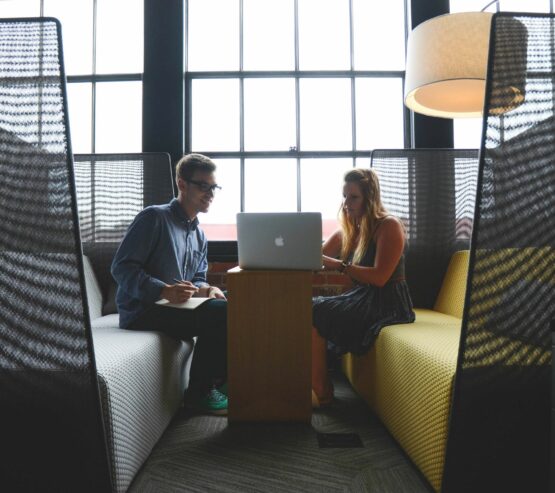 Unmatched Customer Service
Clickn It is a party in itself!  We pride ourselves on the level of professional customer service we offer.  We create energy and engage you in what will make your photo booth vision become a reality.  Everyone will enjoy taking selfies, usies, creating videos, boomerangs and anything else your heart desires.  We strive to make Clickn It the perfect choice for your event.
Special Effects
Expect to be amazed by all the features our photo booth has to offer like:
LED Light Integrations, Video Recording, Animated GIFs, Animated Overlays, Boomerangs, Digital Filters and Props, Hollywood Glam Skin Smoothener and Green Screen
Whether you are looking to match an event with a corporate brand logo, a wedding keepsake, or a fun photo strip for your guests, your photo booth rental with Clickn It has got you!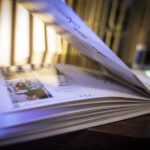 Guestbook
We print an extra copy of each session and place it in your photo album. Guests are encouraged to leave messages, making this add-on an excellent idea as a guest book.
*Choice of album color subject to availability*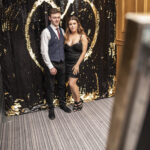 Backdrops
Create a customized backdrop for your event!  From a step and repeat, to an enlarged photograph, anything is possible with this option.  We print on wrinkle-free, anti-glare fabric to ensure the best quality.
 *Three weeks notice required*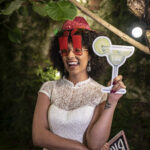 Photo Props
Order a custom made prop(s) for your event. Logos, slogans, and hashtags make great prop signs.  Our props are printed on anti-reflective material to make sure your signs look perfect in your photos.
 * Five prop minimum order required *
 * Three weeks notice required*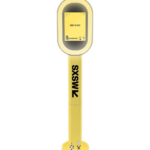 Branding Options
Want to feature your logo or monogram on the start screen or the Booth?  No Problem! Make your brand stand out in the crowd with this option.  You can also create overlays for stills and videos for individual green screens.
* Total branding option removes the website link on prints and watermark on online gallery images upon request *
We Come to You
Clickn It is proud to serve New Jersey, New York, Connecticut, and Pennsylvania.  If your event is beyond the 30 mile delivery radius of NYC, contact us to calculate your delivery costs.
Extended Stay
Looking for a photo activation that lasts several days?  Clickn It can make your extended photo booth rental possible!  Contact us today so we can customize a package for your specific needs.
Booth Streaming
Instantly view the photos taken on a separate projector or T.V. screen at your event. Your guests can see all the photo booth fun as it happens.
 * Must provide T.V. screen or projector *
We know that finding the best photo booth rental is a task and can be difficult.  We like to keep things simple.  Excellent customer service, cutting edge photo booth technology, and exciting props is just the beginning of what makes a great photo booth rental company.  Contact us below and let us show you why Clickn It is the best photo booth rental NYC has to offer.
Still need more information?  Do you have some questions about a photo booth rental or the photo booth rental process?  That's okay.  We are here to answer any questions you may have about getting a photo booth rental with Clickn It.